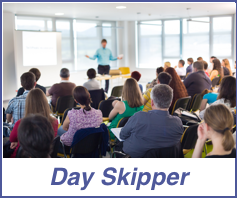 Required pre-course experience
RYA Day Skipper Shorebased
A comprehensive introduction to cruising for new Skippers. This course equips you with enough knowledge to navigate around familiar waters by day. A basic knowledge of lights is also included to introduce you to night cruising.
The course classroom based and taught over 40 hours and concludes with two exam papers.
Course topics include the basics of seamanship, the essentials of coastal navigation and pilotage, chart work, electronic charts, position fixing, plotting a course to steer, weather forecasting and meteorology, tides, collision regulations,construction, parts and equipment of a cruising boat, emergency and safety procedures including distress calls, use of flares, safety harnesses, lifejackets and life rafts.
 Certificate awarded: RYA Day Skipper Shorebased
Price includes all tuition and Greek VAT at the appropriate rate.