Winter training with Corfu Sea School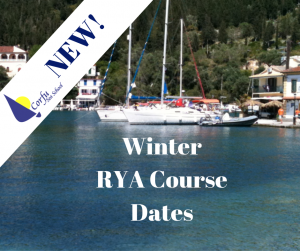 We have been pondering whether or not to offer winter training for some years now. One of the biggest barriers has always been that the direct flights to Corfu from Northern Europe finish at the beginning of November each year. You can still get to Corfu in the winter, but it means flying to Athens then taking a short internal flight to Corfu with either Aegean Air or Sky Express.
We always thought that this would dissuade people from coming. However, we have recently done some market research and discovered that, if the price is right, a surprisingly high number of our clients would come. I guess the alternative of learning in cold, grey and wet northern seas is not so appealing!
If booked in advance you can fly from London to Athens for €80 return and about the same for the 45 minute flight from Athens to Corfu. This is considerably less than one has to pay to fly direct at the height of the summer.
Also, a growing number of our clients now come from near European countries and get to us by road and ferry. The ferry route from Igoumenitsa on the Greek mainland to Corfu runs all year round.
So, for the winter months of 2019-20 we will be offering a select number of lower priced training courses for both sailing and motor cruising. Full details can be found here: https://www.corfuseaschool.com/winter-training-with-corfu-sea-school-2019-2020/
`Of course, the weather is not the same as in the summer. However, those of you that have suffered in 40+ degrees in the summertime will enjoy daily high temperatures of circa 25 degrees and the water temperature rarely drop beneath 16 degrees. We also generally expereince better sailing conditions in the winter months.
Those tired of the hustle and bustle at peak times will revel in the peace and calm of the winter months. There is only a handful of other yachts on the water, making mooring much less frantic and better for practice.
Many tavernas close in the winter months. However, those that do stay open, and there is at least one in every village, are for locals. So, the really authentic Greek food, at very reasonable price, this is the time of the year to come.
We aim to make winter training a success and hope that some of you decide to join us.
Steve Hills - Principal - Corfu Sea School