Will Brexit affect the work of super yacht crew?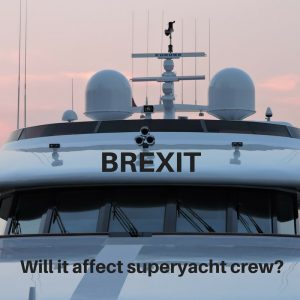 As were many people working abroad, superyacht crew were anxious about the result of the referendum held in June, to decide whether on not the UK should leave the European Union.
When they awoke to the shock, there was then the uncertainty to follow. What does it mean for superyacht crew working in Europe? Will it affect our tax status, residency status, and employment status?
I think it is fair to say that at this point, you should not worry, as there is a long road ahead full of negotiations and decision making which means realistically there will be little change in the foreseeable future.
The vessel you work on is governed by the flag state of the yacht, so there should be no changes to day to day work arrangements.
Most superyacht crew can claim tax relief on their earnings when they have worked outside the UK for at least one year and this is part of British law so will not change. The Seafarers' Earnings Deduction will therefore still apply.
When the final customs and border arrangements are in place, you might end up collecting too many stamps in your passport and have to opt for the extra pages version when you next apply for a new one. However, there is the option for the UK to remain a part of the European Economic Area which would mean a continuation of the current free movement across borders in Europe.
The uncertainties far outweigh the answers at the moment but it is felt that the exit of the UK from the EU will probably have little or no negative impact on the lives and working arrangements of yacht crew neither in the immediate or long-term future.