Making Sense of the new STCW refresher training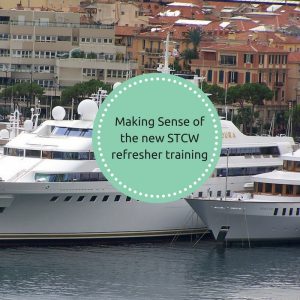 The Manila Amendments have brought a number of changes to the STCW 2010. The one which affects the majority of crew working in the superyacht industry is the need to updates some aspects of the STCW mandatory training.
As of January 1st, 2017, there is a requirement to update some of the STCW certificates that are more than 5 years old. This applies to all crew working on commercial vessels. If you did your STCW training before 1st January 2012, it is likely that you will need to undertake some refresher training. The refresher training does not mean completing the full course again just a refresher.
The following STCW certificates are the ones affected by these changes:
Personal Survival Techniques (half day refresher)
Fire Prevention and Firefighting (one-day refresher)
Advanced Firefighting (one-day refresher)
Proficiency in Survival Craft and Rescue Boats (other than Fast Rescue Boats) (one-day refresher)
Proficiency in Fast Rescue Boats (one-day refresher)
These changes also affect crew revalidating their MCA CoC (Certificate of Competency). They will have to show evidence that they have either completed the STCW courses above or they have completed the refresher training for the above.
For most deck and interior crew working on superyachts, this will mean attending a one day Fire Prevention and Firefighting refresher and the half day Personal Survival Techniques refresher.
If you are working on a commercial vessel and you do not update your STCW certificates (If the date on your certificates was prior to 1st January 2012), you will not have the necessary documents to comply. This could create some issues for the yacht in that they could fail a port inspection and cost you your job. It is up to you to ensure all your certificates are in date, so root them out and check all the dates.
There will be a high demand for these refresher courses so make sure you book with a training centre for when you are next due on leave. Do not leave it to last minute, if the instructor is ill and the course is cancelled or you are called back to the yacht early, you could find yourself with out of date certificates come January 2017.