5 tips to help your resume stand out with the captain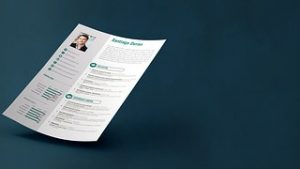 The resume (cv) is often your first point of communication with the captain and the crew who are involved in the recruitment decision-making process. Whether or not you know you can wow them with your charm when they meet you is irrelevant. You need to get to that first meeting or interview stage and more often than not, it is your resume that will get you there.
You will be one of many applying for each post so make sure your resume stands out, is succinct and gives an outstanding first impression to anyone reading it. To help you get your resume noticed, here are some top tips:
The photograph, we should not live in an aesthetic world but the yachting industry is renowned for basing a large amount of their recruitment decision making on the physical attributes of a person. Often the captain will have 20 or so resumes and will select only a handful to read based on looks alone. It is therefore very important to look professional. Make sure you are dressed in a crew type uniform, if you do not have one, a crisp white shirt or smart polo top. No sunglasses. For the men a trim beard if you insist on having one. For the women neatly tied back hair if it is long. A head and shoulder shot are all that is required so not to worry if you do not have the bottom half of your uniform ironed.
The objective, this is sometimes forgotten in the resume writing process but if overlooked it could result in you not being considered. The captain wants to know what you are looking for and if his yacht meets your preferences. An example would be… To secure a professional position aboard an 80ft+ sailing yacht working in a small team on either a private or charter vessel.
The length of the resume, most captains will not have time to read an in-depth novel type resume so make it succinct. Two pages in length maximum. Remember it needs to be easy to skim read it so make sure the best of what you have to offer is listed first under each subheading. Your most recent position first, your highest qualifications first, your more advanced skills first.
Your interests and hobbies, keep this short and be honest. The captain wants a happy ship and therefore, if you have interests that are easily achievable in your downtime or onboard the yacht, he or she will assume you will fit into a happy routine on board. Everyone loves to travel so skip that one. Sailing, diving, wakeboarding, watching movies etc are all achievable on most yachts so if you have an interest like this make sure you list it.
Give examples, there will be many resumes listing the same skills and experiences so to stand out, make sure you list examples. If you are an excellent detailer, give an example of some detailing work you have done. If you are an excellent bar tender, state the functions or size of crowds you are used to serving, the types of drinks, your cocktail knowledge etc. Again make it snappy and succinct by using bullet points.
Make sure you have all the qualifications you need and if you can afford to go one step further and get a few you don't need. Corfu Sea School in Greece offers a wide range of RYA, sailing, powerboating and motor courses and a beautiful part of the world to top up your tan for your resume photograph and the impending dock walking.