Do you have what it takes to be a superyacht deckhand?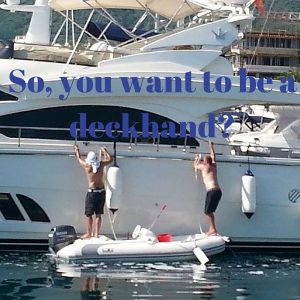 There is no question about it, working on a superyacht is one of the most exciting and well-paid jobs around. However, what this means is that many people are vying for the same posts and you have to stand out to be in with a chance of being employed.
Do yourself a big favour and make sure you have all the right qualifications, and more… do not think you can rock up in Antibes or Palma and be hired because you are good looking and have a great personality. The minimum qualifications are a must and if you want to increase your chances, consider doing more.
The bare minimum qualifications required to work on either a sailing or motor superyacht would be the following:
RYA Day Skipper Theory
RYA Day Skipper Practical (sail or motor)
RYA Powerboat level 2
STCW Basic Training

Elemantary First Aid
Personal Survival Techniques
Fire Prevention & Fire Fighting
Personal Safety & Social Responsibility
Proficiency in Security Awareness

RYA Diesel Engine Maintenance
RYA Short Range VHF Radio Certificate
ENG1 – this is not a qualification, it is a medical certificate you must obtain from a registered Doctor.
These qualifications are unlikely to be considered without some experience or alternate skills. If you have no practical skills such as electrical systems, engineering, carpentry, plumbing, deckwork, sailing, driving RIB's, tenders or motor boats then consider building up some miles on a sailing yacht or motor yacht by doing deliveries or volunteer crew work.
To give yourself an increased chance of finding work, it would be prudent to consider also doing the following qualifications:
RYA Tender Operators Training
RYA Yachtmaster Theory
RYA Yachtmaster Offshore
Proficiency in Designated Security Duties
Qualifications are not everything but you will be up against people who have both qualifications and experience. Spend some time on you your CV/resume and read these tips on how to make your CV stand out.
Corfu Sea School is the ideal place to base yourself, whilst you do the RYA qualifications. If you are completing more than one course, talk to them about discounted rates.