Guide to Yacht Charter in Greece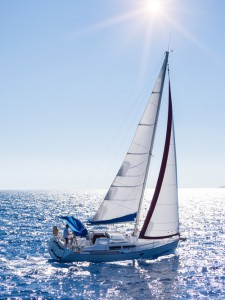 I have been considering writing a brief guide to yacht charter in Greece for some time now. Largely, in response to questions from our RYA sea school clients. In essence, renting a boat should be easy, however there are number of pitfalls to avoid. The following should be considered:
The Charter Company
There are some great deals in the classified ads of major newspapers. But beware. Many private yacht owners like to fund the running costs of their boat by offering it for the odd charter. Most are not commercially registered or not certified as in compliance with the country's safety requirements. Not being commercially registered means that your charter is illegal and, worst still, you are probably not insured. There is a big price difference between commercial and private boat insurance and, as the Skipper of the boat at the time of any accident,  you can be liable. Only book with reputable, registered charter companies. You may pay a little more but at least you can rest easy in the knowledge that you won't end up in court if the worst happens!
Qualifications
Check what the Charter Company requires from you and make sure you carry your diplomas and licences with you. Croatia, for instance, has started to police their requirement that at least one person on every yacht has a proper VHF Radio Operators licence. Last year a number of Charterers were stopped from leaving port until the problem was solved. That involved either taking a one day course and, of course, losing a day of their holiday. Or, worst still, having to pay for a local certified Skipper to accompany them.
The Right Boat
It is very tempting to choose the biggest boat you can get for the price. Understandable but potentially fraught with problems. If your experience to date has been with 35 footers it is a big leap up to take on a 50 footer. Mooring becomes more difficult, sail area and the power generated  are much higher, and the boat's systems will be far more complicated than you have experienced before. Remember, you are there to relax and enjoy yourself. Struggling with the extra draft and handling characteristics of a big boat will create extra stress….not what you are looking for on your holiday.
The Right Area
Check out the average wind strengths for the time of year in the area you are considering for your charter. Here in Greece the Meltemi blows in the Aegean Sea during July and August. This regional wind can reach  force 8 or 9 at times and should really only be taken on by experienced sailors. The Ionian Sea, on the other hand, has more comfortable conditions at the same time of the year. Consider this, whilst you may enjoy a good blow and some hard sailing, your family and friends may not see things the same way!
Also consider how crowded it is going to be. The moorings at hotspots, such as Mykonos, Santorini, Cephalonia etc., are going to be full by three o'clock in the afternoon. Fighting for the last place on the quay only raises the stress levels. Consider areas with plenty of protected anchorages during the height of the season. Overnight in these, then, visit the hotspots in the morning to shop etc., when the other boats have left for the day.
Be Ready
It is a sad fact of modern life that work consumes the majority of our time. For many people, their only chance to get out on the water is the odd weekend and their annual holiday. If this sounds like you then take a little time before your charter to re-read your navigation manuals. Perhaps try to get out for a weekend's sailing with a friend. Better still, if you have not sailed for some time, take a refresher with your local sailing school. If you are sailing in our area we can even put an Instructor aboard your charter yacht for a couple of days until you feel back up to speed.
Deciding on a route
As strange as it seems probably the best plan is no plan at all. Let the weather conditions dictate what you do and where you go. Having a 'caste in granite' plan often means visiting bays and harbours that, on a specific day, are not as protected as they could be. If you are a family group, or with little experience, keep the distances short. Fifteen miles, with a stopover at lunchtime for a swim, is comfortable and keeps those stress levels down. Work with the wind and beware of leaving yourself  a long upwind leg to get back to base in time to hand the yacht back to the company.
What's included?
Read the charter contract from beginning to end. The main things to be aware of are whether bedding is provided and whether you or the company are responsible for cleaning the yacht at the end of the charter. Many companies offer optional extras (such as outboard motors for the tender, a spinnaker etc.) make yourself aware of whether these extra charges apply to your charter. Make sure you know exactly how much the security deposit is and whether it covers the owner's insurance excess payment. Also, how long it will be before your security deposit is returned to you. Less scrupulous companies may keep your money for a month or so.
Finally, make sure of the limitations imposed on your use of the boat. This could be limits of wind strength (many charter agreements state that you must not sail in winds of over force 6), time of day (many forbid night sailing) and restricted areas (where there are either military activities or areas of dense commercial traffic).
The Briefing
The Charter Company is obliged to give you a full briefing on the workings of your charter yacht. Make sure you don't get short changed here. During a busy turnaround day a big charter company may have 50 or 60 briefings to do. Understandably this means one or two guys flitting from boat to boat trying to get everyone way from the dock as fast as possible. As a minimum you need to know: How to start and stop the engine, any sea-cocks that need closing whilst sailing, how the water system works, how the electrical system works, any specifics about the sail controls, where the safety equipment is and that it is in-date.  A good briefing will include an overview of the area and suggestions as to where to head for. Remember, they have the local knowledge.
What to take with you
Use only soft luggage, it is easier to store on a yacht. Pack the minimum you really need. In the height of summer, out here in Greece, a handful or T-shirts and shorts is all you will wear. This is not a place for formal dressing and taverna owners are used to diners in shorts and t-shirts. Make sure you have a soft soled pair of shoes so as to not mark the deck.  If you have one, bring your own handheld GPS, otherwise you may be confronted with a model aboard that requires you to read the manual before being able to operate it!  Bring 12 volt car cigarette lighter type chargers for phones, cameras and devices. Consider buying a pre-paid phone card here if you envisage having to make many calls.
I hope you'd found this short Guide to Yacht Charter in Greece useful. As ever, we are here to answer any questions and wish you a great season's sailing.